M.O.P.S. "Mothers of Pre-Schoolers"
M.O.P.S. Steering
Coordinator: Tammy Lewis
Asst. Coordinator: Becky Davis
Mentor Mom: Ruth McCrary
Finance: Melinda Devenouges
MOPPET's: Sue Toepper
Pulicity: Julie Worby
Care Groups: Tena DeGraaf
Hospitality: Sherry Lensing
Secret Sister: Pam Polston
M.O.P.S. M.O.P.S. is a non-denominational ministry that has a goal of meeting the unique needs of Mothers of Pre-Schoolers.
A Message From the Manteno MOPS Cordinator:

The M.O.P.S. program is designed for mothers with children under school age, infant through kindergarten. There are nearly 2,200 MOPS groups throughout the United States, Canada and eight other countries.

Mothers, not all the same age...but all in the same phase of life. Women with different lifestyles and different backgrounds, some from the church, many unchurched...but all with similar needs and a shared desire to be the best mothers they can be.

The MOPS group provides: encouragement, support, teaching and friendships. In these relationships moms find answers for their simple, everyday dilemas and discover a safe place to explore the deeper principles for life-building. MOPS helps moms and MOPS makes a difference in the lives of their families.

Each meeting usually begins with a presentation designed to teach and educate. Topics focus on different aspects, including: -Family Care; -Marriage; -Child Care; -And, Self Development.
Small discusion groups provide and ideal enviornment for sharing opinions on the day's topic while helping moms get to know each other in a friendly, caring and accepting way.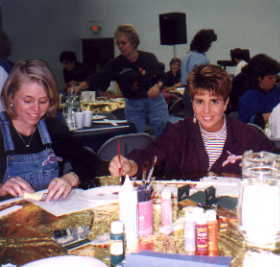 Craft time, perhaps the favorite part of each meeting, allows moms to express their creative talents while socializing with other moms.
While mom is satisfying her needs, children are participating in the MOPPETS program, a structured and fun atmosphere which features playtime, singing, story time, games, snack time and arts and crafts projects that help develop cutting, pasting, drawing and others skills.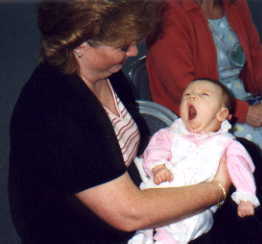 Nurseries are provided for infants and toddlers under two years of age.

The events and programs of M.O.P.S. are prayerfully planned. You are invited to participate in all or part of the events. Bring friends and be involved in this active organization.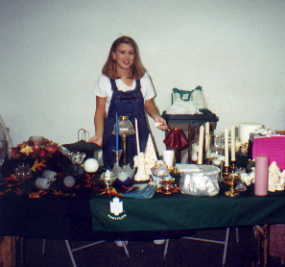 MOPS is the Host of an Annual Craft Show! COME SEE IT! MOPS of Manteno meets two Fridays a month from 9:00-11:30 a.m. at the Manteno Church of the Nazarene 698 N. Locust Street in Manteno, Il. Cost: $10 registration fee charged for each season. In addition, a donation of $5 per meeting is recommended to help offset the cost of the ministry.
For more information about the Manteno chapter of MOPS, call (815) 468-2072 and ask for Tammy.

The following is the 2000-2001 MOPS Friday meeting schedule:

September 8th and 22nd 9:00-11:30

October 13th and 27th 9:00-11:30

Annual Craft Event October 14th from 9:00 a.m. to 2:00 p.m.

November 17th 9:00-11:30

December 1st and 15th 9:00-11:30

January 5th and 19th 9:00-11:30

Febuary 9th and 23rd 9:00-11:30
March 9th 9:00-11:30
April 6th and 20th 9:00-11:30
May 4th 9:00-11:30